NHT can act as a replacement for, or greatly reduce, your need for the vast majority of your spa care chemical regimen:
· No more itching or rashes
· No more odor
· No more scum lines
· No more chemical hassles
· Gentle to skin, hair and bathing attire
· Balances pH and alkalinity
· 100% guaranteed!
· Conditions water for sensitive skin
· Drain spa only once a year
· Moisturizes your skin naturally
· Water so soft and clean you won't feel the need to shower after using your spa
· One bottle of NHT® lasts up to three months
Just empty one bottle of NHT into you spa or hot tub water and enjoy the natural benefits for up to three months.
NHT® is a unique formulation of natural enzymes, minerals and plant extracts and contains no harsh chemicals. Made with natural compounds which contain skin conditioning properties, NHT® is a completely natural and safe alternative to traditional spa and hot tub care.
NHT® hot tub water treatment is arguably the easiest to use and safest water treatment system on the market today. Your water will be softer, clearer, with no odors, no foam and no irritation to the eyes and skin. In fact, frequent spa & hot tub use leaves skin feeling soft and moisturized.
Products
 
NHT® Water Treatment and Conditioner
• No More Itching or Rashes
• No More Odour
• No More Scum Lines
• No More Chemical Hassles
• Gentle to skin, hair and bathing suits
• Balances pH & Alkalinity
• 100% organic and is non-toxic to all living creatures and the environment
• Water so soft & clean you won't feel the need to shower after using your spa & hot tub
• Conditions water for sensitive skin
• Lasts for up to 3 months
• Drain spa & hot tub water only once a year
• 100% Guaranteed!
**Please note that first time users must use NHT Cleanser prior to using NHT Water Treatment even if the hot tub is new.
MSRP $39.99
NHT® Cleanser
• The perfect way to clean your spa & hot tub before using NHT® Water Treatment. NHT® Cleanser is a fast acting proprietary cleanser that penetrates deep inside your spa's plumbing and equipment, removing organic, mineral and chemical contaminants.
• NHT Cleanser must be used even if the hot tub is new in order to remove residues left over from the manufacturing process.  If these residues are not removed they will slowly enter the hot tub and will cause the water to become cloudy.
• Prolongs the life of spa and hot tub equipment and heater element.
• Works great in whirlpool/jetted bathtubs.
MSRP $32.99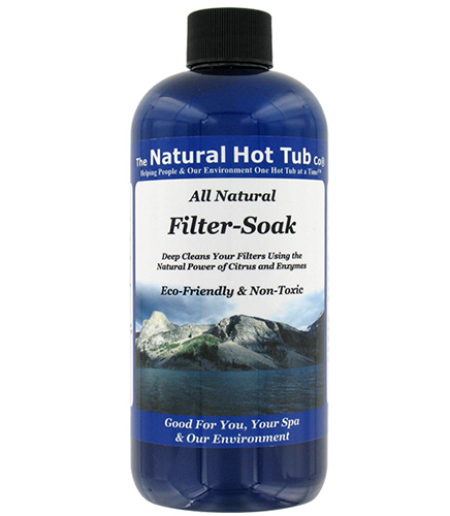 NHT® Filter Cleaner
• NHT Filter Cleaner is a powerful cleaner designed to remove oils, hair, dirt and grime that gets trapped in the fabric of cartridge filters without the use of bleach or harsh acids.
• Simply remove filter from spa and rinse with a spray hose. Add two capfuls of NHT Filter Cleaner to up to 20 liters of fresh water in a pail.  Soak filter overnight in the solution.  Rinse filter thoroughly with fresh water.  Ideally the filter should be allowed to dry before replacing.
• Most odors are a result of contaminants that have accumulated in the spa's filter.  Using NHT Filter Cleaner on a regular basis will help avoid odor problems.
MSRP $32.99
How it Works
The 'Original' Enzyme Solution…
Proven 100% safe and effective for over 20 years…
Try our product and you will see why…
There are over 3 million different types of enzymes and still counting
There are 14 different enzymes in the Bio-Prepase Water Treatment & Conditioner formula. Thousands of different formulas were tested over a period of years to find just the right mixture of enzymes that were effective.
With this formula, we have a combination of enzymes that have been effective but at the same time 100% safe for people, plants, animals and our environment.
The Bio-Prepase Water Treatment & Conditioner enzymes have some fascinating properties. Most enzymes work within a narrow temperature range – between 70 and 90 degrees F. At the lower temperatures, the enzymes don't have enough energy to start a reaction. As the temperature rises, they work better until they start to break down from the heat.
These Bio-Prepase enzymes are different because they continue to work all the way up to 180 degrees F. Very few enzymes can tolerate – much less thrive – at this temperature. Most Enzymes are lucky if they last a week, our Enzymes do not gas out. The Bio-Prepase Water Treatment & Conditioner enzymes also have a long shelf life up to 5 years.
The Effects of Bio-Prepase on WaterpH – The pH of water is determined mostly by contaminants that enter the water supply.
For example: soap residues, dead skin cells, lotions, human waste, urine, etc..  These contaminants will cause the water pH to rise and/or drop sharply.  Until now, the only method to resume a normal or balanced pH would have been to add chemicals to the water to reverse the problematic pH symptom.  Although adding a chemical will reverse the pH and provide you with a normal reading using standard pH testing procedures, the contaminant that caused the pH problem remains in the water, in addition to the newly added chemical used to reverse the problem pH readout.  pH testing is done because chlorine and bromine only work within certain pH ranges.  Bio-Prepase maintains it's own pH range regardless of the contaminants entering the water because Bio-Prepase eliminates the contaminant without the need for pH adjusting chemicals.  These enzymes bond to the contaminant that enters the water (by using naturally occuring technology).  The contaminants are attracted to these enzymes and are captured in the filter.  This action occurs whether the contaminant is acidic or alkaline.  The pH level will fluctuate somewhat between 7.8-8.2, depending on the amount of daily contamination, but will usually stabilize within normal range without using any chemicals.
Color, Clarity & OdorThese enzymes help to remove organic contaminants from the water helping to prevent turbidity resulting in unpleasant water conditions. Inorganic chemicals that disturb water clarity are unaffected by these Enzymes. If necessary the addition of a natural clarifier will remove inorganic contaminants.MineralsDue to the positive charge carried by these Enzymes, mineral particles will not attach to plumbing, pumps, manifolds, etc.. they will remain in suspension until captured by the filter. Certain exceptions in areas of hard water (that have not used a pre-filter may need to add a stain and scale control or metal out product.CompatibilityOur Water Treatment & Conditioner is compatible with (chlorine, bromine, ozone) Sanitizers.
Our Water Treatment & Conditioner is not compatible with Biquanide products or 1-Micron Disposable Filters, switch from these disposable filters and replace with a regular pleated filter before starting with our program. Also remove any in-line cartridges before starting as well.
Testimonials
Don't take our word for it. See what some of our delighted clients have to say about our products and services.
"I absolutely love my hot tub now! It reminds me of the hot springs in Wyoming where I grew up. It has been 2-months now since we added the water treatment and I never itch and no more burning eyes." Thank you for such an amazing product."
Ellen / Missouri
"Your product makes hot tubbing fun again."
Caroline / Georgia
"I bought a hot tub because of this product. Couldn't be more pleased with the performance & quality."
Scott / Virginia
"Enzymes do so much! Everywhere! WOW, thanks for the healthy alternative."
Ryder / California
"It's about time someone in the hot tub industry started thinking about our environment."
Sally / Washington
"Your customer service is outstanding."
Beth / Pennsylvania
"I have owned hot tubs for over 12 years now. I was always struggling with the pH and making sure the water was clean. Sometimes when I'd turn on the jets it would make me cough really bad. It was a real hassle having to add chemicals every other day. But now with the All Natural Water Treatment, all those problems are gone. I have been using the All Natural Water Treatment & Conditioner for over 3 years now. My wife loves it because it doesn't dry her skin out and it makes me feel good knowing that when the family and I go into the hot tub it is safe for our skin and lungs. Thank you so much!"
Thomas / California
Directions
New Spa Directions
1. Water mold and bacteria may have collected in your garden hose and will contaminate the spa water.  To prevent this, follow this easy steps:1. Shut off nozzle end of your garden hose, place 1/2 tsp of chlorine granules (99% sodium dichlor) down the spigot end of the hose, attach to the spigot and fill.  Let sit for 5-minutes, then flush.2. Fill spa. The Natural Hot Tub Company's ® garden hose Pre-Filter is highly recommended to help eliminate the need for additional chemicals. If you are on a well, you can use water from your household water softener systems.3. Shock with 2 teaspoons of Spa Chlorine Granules (99% sodium dichlor) for hot tubs & spas up to 500 gallons. (1 tsp for 250 gallon or less) New hot tubs & spas are water tested at the factory and some still have this old water left in the lines.  'Shocking' the water the first day is recommended to resolve this issue.4. After temperature reaches 90 degrees or above, shake well and add The Natural Hot Tub Company ® Water Treatment & Conditioner. (1/2-bottle for spas up to 250 gallons or 1-full bottle for spas up to 500 gallons)5. Run all pumps on high with all jets open for 5-minutes and enjoy. Check your water with a reliable test strip the next day, and only adjust if necessary.
Conversion Directions for Older Hot Tubs & Spas
1. This conversion takes 5-days.  The Natural Hot Tub Company® Penetrating Cleanser works well in removing past chemical build-up in hot tubs & spas equipment and lines.  This water will have a higher concentration of chemicals used in the past and hot tubs & spas should not be used during this time.  Please read instructions completely before starting.1. Remove filter(s) and leave out during this 5-day cleansing cycle. Purchase new filters if they are over 1 year old. Clean filters that are less than a year old with The Natural Hot Tub Company® Filter Soak.2. Add 1-full bottle of The Natural Hot Tub Company ® Penetrating Spa Cleanser into your existing water, regardless of how old the water is or what chemicals have been used in the past.  Be sure all jets are open.  Two bottles are recommended if hot tubs & spas are over 5-years old.3. Maintain temperature at 90 degrees or higher & run filtration for a minimum of 6-8 hrs per day, 24-7 is best.4. After 5 days, turn off breaker & drain.5. Clean under headrests & bottom of cover with The Natural Hot Tub Company's ® Filter-Soak or Penetrating Spa Cleanser by using 1 capful to 1 cup of warm water.* Never use anything with soap or anything which leave a soap residue. This is a good time to inspect your cover for any tears, which would allow contaminated water to drip back into your spa water.  If your cover has any rips or tears we highly recommend purchasing a new one.

6. 'Back Flush' by shutting off spa drain, put garden hose into the filter area, and fill until bottom area of spa is full or at least 6-8 inches high.  Rinse thoroughly and drain this water out.

7. Put clean or new filter(s) back in, turn breaker on. Then complete instructions for New Spas.
ENJOY NHT®, the lowest maintenance, completely natural, non-chemical, safe skin
conditioning product made exclusively for the hot tub industry!
Contact Us:
Phone:  602-269-6963
Fax:  602-278-0424
e-Mail:   [email protected]
Address:  3737 West Thomas, Phoenix, AZ 85019