Question:  How are your covers constructed?
Answer: We have tested and proved materials that last in Arizona's varied climates.  We offer several options to best suit the environment of your spa.
See diagram below.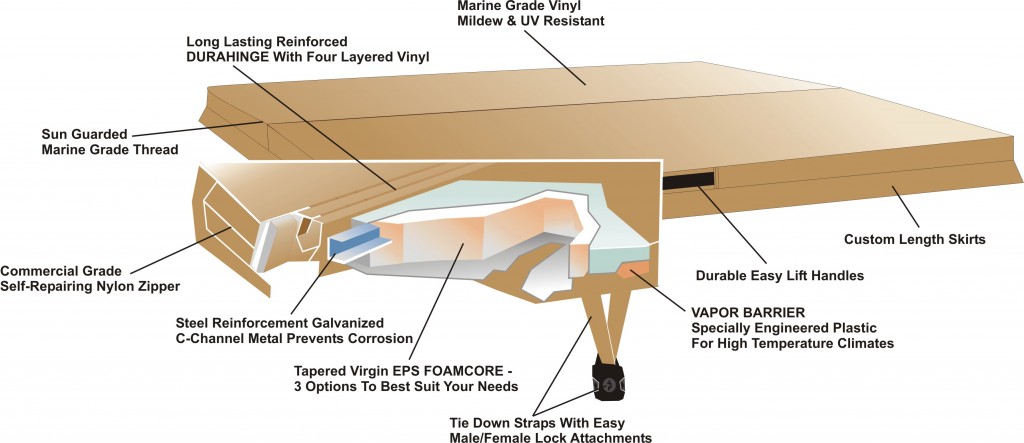 Question: Are you a manufacturer?
Answer:  We are a manufacturer.  We cut and sew everything we sell in Phoenix, Arizona.  We are one of a few manufacturers still making spa covers in the US.  Re-sellers are everywhere.  Manufacturers are far and few between.  We have been manufacturing spa covers in Arizona since 1979.
Question: If I know the make and model of my spa will you have dimensions for my spa cover?
Answer:  We have a very large cover dimension databases.  We are the OEM manufacturer for a number of spa manufacturers.  Email or call us with your make and model and we can look up what you have.  We like to talk about what you have as manufacturers keep names of popular models but change their molds/sizes over time.
Question: Are your covers recommended for outdoor use?
Answer:  A few years ago this questions never came up.  In order to offer a low starting prices some companies have moved to an entry level cover recommended for "indoor use only" or "mild climates" noted in their fine print.  All of our covers are made for outdoor use to last in Arizona.  Arizona is considered an "extreme climate".  

Question: How long will you covers last in Arizona sun?
Answer:  We only use the best materials.  We have to, we manufacturer in Arizona!  There are many marine-grade options when it comes to vinyl but we only choose the best.  We only use Sun Guard marine-grade thread.  How a cover is sewn is also very important.  We blind stitch our hinges so thread is not exposed to the sun.  We top stitch edges with a double run of thread.  We use 4 layers of material to add strength to the hinge.  Arizona has one of the harshest climates and we could not have stayed in business for over 35 years if our covers did not hold up in our environment.  The average life of our covers in Arizona sun is 4-8 years.  Life depends on how much sun the cover is exposed to, maintenance and the color chosen (lighter colors are better than dark colors- Almond is by far the best color for UV reflection).  We have many repeat customers that come back with covers over 10 years old.  Our record is 24 years by a Paddock customer who regularly applied 303 Aerospace Protestant.
Question: What prevents water getting into the cover
Answer:   How a cover is made on the inside is equally as important as how a cover is made on the outside.  We protect our EPS closed cell foam inserts with a specially designed plastic wrap that does not deteriorate in our climate. We NEVER use black or blue plastic as pigment in colored plastic causes rapid deterioration in hot dry climates.  Black plastic can also cause foam to melt.  Our wrap is totally clear, pigment free, UV stabilized and designed to withstand the excessive heat we experience during the summer months.  We heat seal all our plastic, we NEVER use tape to seal plastic.  Our plastic does NOT get brittle and does not shatter like others.  We have used the same plastic vendor for over 20 years.  We also place drains in the bottom of our covers to allow condensation to escape.
Question: I bought a cover off the internet from another re-seller, it was damaged in transit can you help?   
Answer: We recommend buying local.  Even if you are reading our website from another state we recommend looking for a local manufacturer in your area.  You will avoid a lot of headache.  Spa covers are large and easily damaged in transit.  Most large cover manufacturers have agreements with credit card companies where the consumer cannot charge back or refuse a cover because of the custom nature of the product, even if the product is damaged in transit and the damage is hidden.  We do ship covers out of state regularly and have great success but we pack our boxes with foam on all sides around the cover.  The most important question to ask any manufacture if they are shipping out of state: "Will foam be packed around my cover inside the box?"  A layer of foam protection stops almost all freight damage.  If your cover is damaged in transit it is often the underside.  Because we are a manufacture we have the ability to repair most covers for a fee.
Question:  I have a warranty problem from another manufacturer, can you help?
Answer: Any warranty is only as good as the "terms of shipping".  If you are responsible for shipping charges the is worthless as the cost of shipping is typically more than the cost of the cover.  A local manufacturer can repair most covers, generally for a nominal fee (if beyond the warranty period) that will be substantially less than shipping costs to another facility.
Question:  What type vinyl is used making covers?
Answer:  We only use marine grade vinyl.  Not all Marine vinyl is created equal.  The weatherometer rating is the most important gauge to quality.  Our commercial grade marine vinyl passes 1,500 hours on the weatherometer scale which equates to 8 years of use in the real world.   This rating is as much as 5 times higher than lower grade marine vinyl.  It is treated to be anti-microbial and to resist mildew as well as the harmful effects of UV rays.
Question:  Will the cover stand up in cold climates?
Answer:  Our vinyl has a cold crack rating of – 20 degrees F.
Question:  How will the cover stand up to the sun?
Answer:  All vinyl is subject to deterioration from UV rays.  Two techniques that extend the life of vinyl in severe climates is to begin with a light color (Almond is best) and to clean it regularly.
Question:  How do I clean my cover?
Answer:  Vinyl is washable with mild soap and water.  Gently wash the vinyl with mild soap and lukewarm water.
Question:  What if I measure wrong and the cover doesn't fit?
Answer:  Our covers are all custom made to your specifications.  We cannot use your cover for another customer so you MUST ensure that you have measured accurately.  Please call us if you have any questions about how to measure correctly.  You can also bring your old cover in to us and we can measure it for you.  We also have dealers that can come on location to measure for a fee.  On the off chance a cover is measured incorrectly we will work with you and provide another cover at half price.  No other manufacturer will do this.
Question:  Why should I buy local?
Answer:  Internet shippers have to subsidize huge amounts of freight.  The cost generally comes out of the quality of the parts of the cover.  Benjamin Franklin said, "The bitterness of poor quality remains long after the sweetness of low price is forgotten."
Contact Us:
Phone:  602-269-6963
Fax:  602-278-0424
e-Mail:   [email protected]
Address:  3737 West Thomas, Phoenix, AZ 85019